I went to the barn yesterday to do the normal. Brush, lounge and ground drive Joey. But plans changed when he caught on to things real fast and didnt care about me jumping around next to the saddle...
Sooooo... My friend Angel showed up and encouraged me to try to get on Joey. So I did. I put my foot in the stirrup and jumped up and down, NOTHING out of him. So I pulled myself up, STILL NOTHING! I laid across his back, the sucker started to walk off with me hanging on his side. Then I went and mounted up on the other side and laid on his back that way. He was a total champ!
Then my friend suggested I should swing my leg over and sit on him because he was being so good. (the whole time I was doing this I was talking to Angel telling her way I was doing this and that) So I swung my leg over and sat on him. No one holding him, out in the wide open arena. He started to dance and act like he wanted to go. I got a bit nervous thinking he might take off with me and start bucking. I talked to him calmly and asked him to stand so I can get off.
I got off and gave him tons of praise. Angel went and got my phone so she could take pictures for me so I had proof.
I went to get back on and he didnt want to stand still for me to mount on the right side. So I went to the other side and he was solid. I mounted up and off we went walking around the arena.
He took a few unsure baby steps but after a minute he was walking around like he has done it his whole life! I was grinning from ear to ear! We walked around the arena for about 10 minutes. We changed directions, stopped, started again, worked on stopping and even backed up. He learned my back up cue today ground driving. I had the bit in his mouth but the halter over his bridle and reins hooked to the halter.
I have been on could 9 all day!
I am planning on heading back over tomorrow morning before work so I can put his second ride on him!
Here are some pictures of Joey's first ride!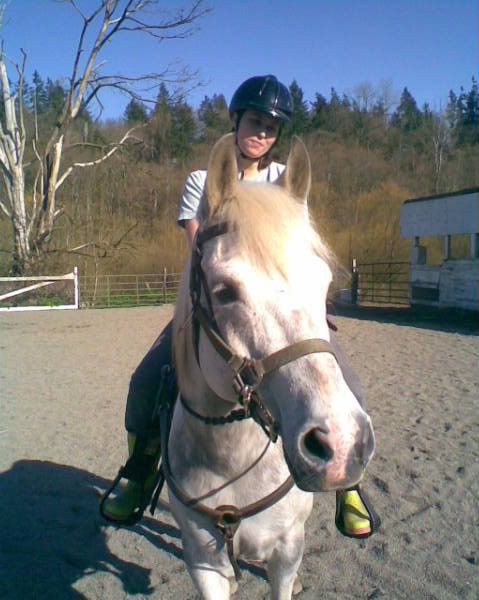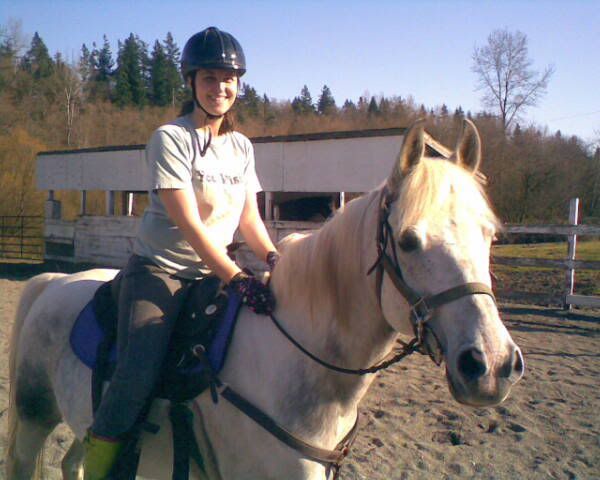 I was so scared he was going to take off with me, but he was so level headed and easy going. I had nothing to worry about at all! As we plodded around the arena he was so relaxed and could care less about me being on his back.
I am so glad I took my time with him and worked on trusting each other first. I knew he would tell me when he was ready for the next step and he did!