Hey Everyone.
Well, "B" has been doing very well. He survived all of the flooding and snow we have had. And of course he has been such a good boy. We have gone up on the trials a couple of times and have had an absolute blast. He isn't afraid of anything. At first I thought that crossing the highway to get to the trails was going to be interesting...but the perfect little boy he is...he trotted right across the street. He is definately not afraid of the bicycle riders and the dogs barking...well, he just thinks they are crazy. hehe.
He is one happy boy when he sees his mommy come walking into the pasture...or maybe it is just because he knows he is getting food...or he is getting worked. I haven't gotten much of a chance lately to get out and work him, but I am hoping that when I get back from California I will have a chance to get down and work with him some more.
After our bad episode at the Fall City Arena we had a while back with Julianne, I have been a little bit timid to break into a canter with him. But, when we went up into the trails I decided that we better try. He breaks right into a canter. My mom took him up into the trails one day and he knew right away that his mommy wasn't on his back so he decided that he would test her out a little bit at first, but he did excellent and she was SO happy that she cantered him. She wanted to do it again...and again...and again lol. She was soooo excited that she came in and told me all about it and then she HAD to call and tell Julianne. Wow what my boy can do to impress. Well, here are some recent pictures of my good little boy.
Mandy.
"B" and I getting back from a trail ride...What a Cutie.
What A Sweetheart.
Hand over the treats.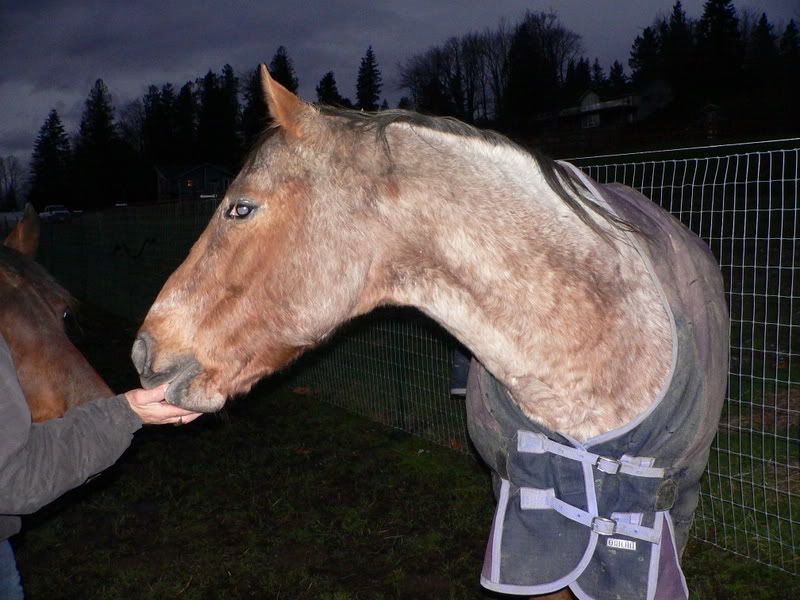 During the flood...They stayed clear of the water.
Here is the pasture full of SNOW!!! We got about 13 inches.