Yesterday I went up to Juliane's to work with Buddy-man & the trot thing.
I had thought about it for a few days, and came up with a few ideas on how to build his confidence when asked to trot.
If you know anything about me, you know I am a ground work queen. I try to teach horses just about anything I can on the ground first, knowing that it will become important during saddle work later on. This challenge with Buddy was no different, even though the issue with trot happened under saddle.
Having worked with Buddy a few times now, I was left wondering what would happen if I simulated the request for trot under saddle from the ground. Sure, I had longed him in the past, a simple driving pressure from behind got him to trot. But what about pressure where the rider's leg would be?
Another thought I had was about saddle issues. It occured to me that it was highly likley that most if not all of Buddy's rides were done in a western saddle. I know my own saddle fits him ok- but a better solution could probably be found. So, to change things up a bit, I decided to try out my treeless english saddle from Heather Moffett's Enlightened Equitation (
www.enlightenedequitation.com
). If anything it would definitely keep his shoulders free and possibly help him break into trot when asked.
Upon saddling, I noticed my smallest girth, 24", was a touch too big. Good enough to work with on the ground, but definitely did not stabilize the saddle for a rider. So, I decided this session would be ground-work only.
I brought along a crop, which I intended to use in hand to tap Buddy's side, cueing for forward, and eventually trot.
So after a quick desensitization session with the crop, we were ready to get down to business. First I used the crop to tap where the rider's leg would be. As soon as he moved off, I released the pressure. After a few times doing this successfully, I then used the crop and kept tapping until Buddy moved off faster. A few more times, and continued the tapping until he broke into trot.
It only took a handful of tries until he understood what the crop tapping meant. Sadly, the first few attempts at trot did scare him, and he offered the same "Freeze & tail tuck" that he did with a rider on his back. We worked through it with me reassuring him, and he eventually did break into trot. We did this a few more times to make sure Buddy understood to trot on cue, and then moved on to the more difficult side: the left.
His left side (the blind one) he was much more unsure about than the right. When playing on the left side, Buddy will almost tune out the handler- his mind sort of leaves his body like he knows something bad is going to happen and he'd rather not be present to experience it. He's not trying to be bad or disrespectful- i know this because when on his left side, his body tenses and his tail is in perma-tuck mode. Poor guy!
So we practised, though lightly, on the left side, getting to the point where he'd move forward off the tapping motion on his belly. Good boy!
All in all it was very successful. This afternoon I ran out to buy a smaller girth for Buddy- of which I will try tomorrow. If successful, I will try riding him in the english saddle, and hopefully our ground work will pay off!
Here are some pictures of the session. Sorry I only have a few, night was falling and my camera's flash didn't work.
English saddle: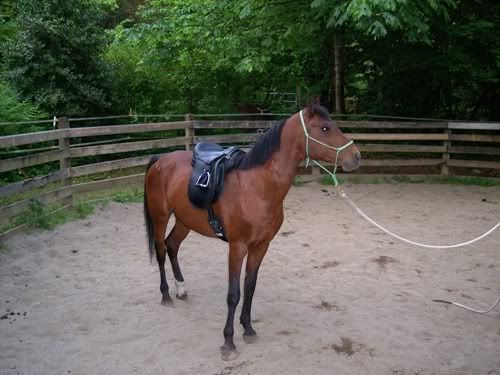 Preparing to work: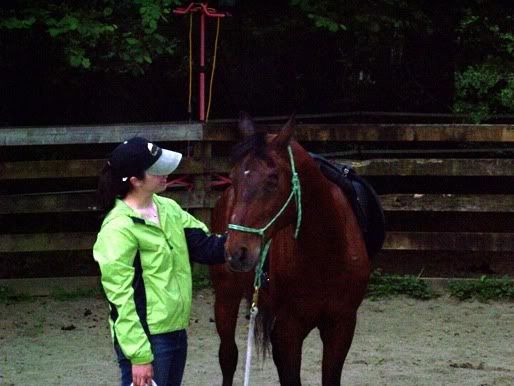 Desensitizing to the crop: